His Eminence, Metropolitan JOSEPH
Archbishop of New York and Metropolitan of All North America
"His Eminence, Metropolitan Joseph, was consecrated to the Holy Episcopacy on June 30, 1991 at St. Mary Cathedral in Damascus, after many years of serving as a deacon and priest. His Eminence was born in Damascus, Syria, in 1950. He completed his basic schooling at the St. John of Damascus and al-Assiyeh schools in Damascus and then at Our Lady of Balamand Monastery in Koura, Lebanon. He completed his undergraduate studies at the Lebanese University in Beirut and then earned his Master of Theology (M.Th.) with special studies in music and languages from Aristotle University in Thessaloniki, Greece. He was awarded an honorary Doctor of Divinity degree from St. Tikhon Orthodox Seminary in South Canaan, Pennsylvania in May, 2010…"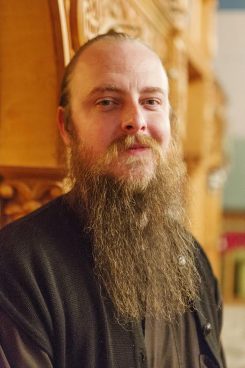 Fr Justin Havens
Priest/Pastor
Fr Justin Havens is the head priest and pastor at Sts. Peter and Paul Church. He has lived in SLC, UT since 2004. Like many, he is a convert to the Orthodox Faith. He was raised in a protestant setting on Long Island, NY. During his spiritual journey and after researching many churches, faiths, philosophies, he discovered with great joy and relief the ancient, original Church, the Orthodox Church while at college in New Mexico. After Baptism, his career plan changed from becoming a physician, to becoming a priest, a spiritual physician. His wife Seraphima is also a convert to the Orthodox Faith and is his much better half and spiritual support. Together they joyfully raise 7 children, all born here in SLC. Fr Justin and his family couldn't be happier in this beautiful city and parish where God has sent them to serve and labor in.
Fr Justin can be reached at frjustinh@wp.sppoc.org.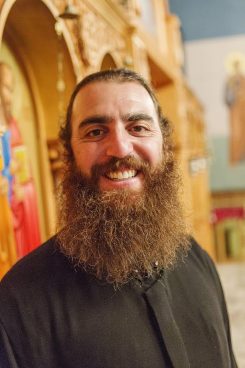 Fr John Mahfouz
Priest/Assistant Pastor
Fr John Mahfouz is the assistant priest at Sts. Peter and Paul. He was born into an Orthodox family and has been raised since his infancy in the Faith. He is from Los Angeles, CA, where he was raised at St. Nicholas Orthodox Christian Cathedral. After finishing his undergraduate degree, Fr John attended Holy Cross Greek Orthodox Seminary in Boston, MA. After seminary Fr John lived and studied in the Middle East, visiting the ancient holy sites of Lebanon and Syria. It was then that he met his dear wife Lina. They were married and moved to California, then in 2014, moved to SLC. Together they raise 2 children. Fr John especially has a heart for youth ministry and is the director of our K-6 Youth Group and Youth and Young Adult Ministry. Fr John and his family are thankful to God for bringing them here to serve Christ and His people.
Fr John can be reached at frjohnm@wp.sppoc.org.